Kraimuz
Khmelnytsky Regional Museum of Local Lore is a scientific and cultural-educational environment both for the city and for the whole region. The museum has a significant collection of objects and materials on the Podillya history and culture.
About the project
Corporate website, logo and name development for a museum of regional scale.
A video about the project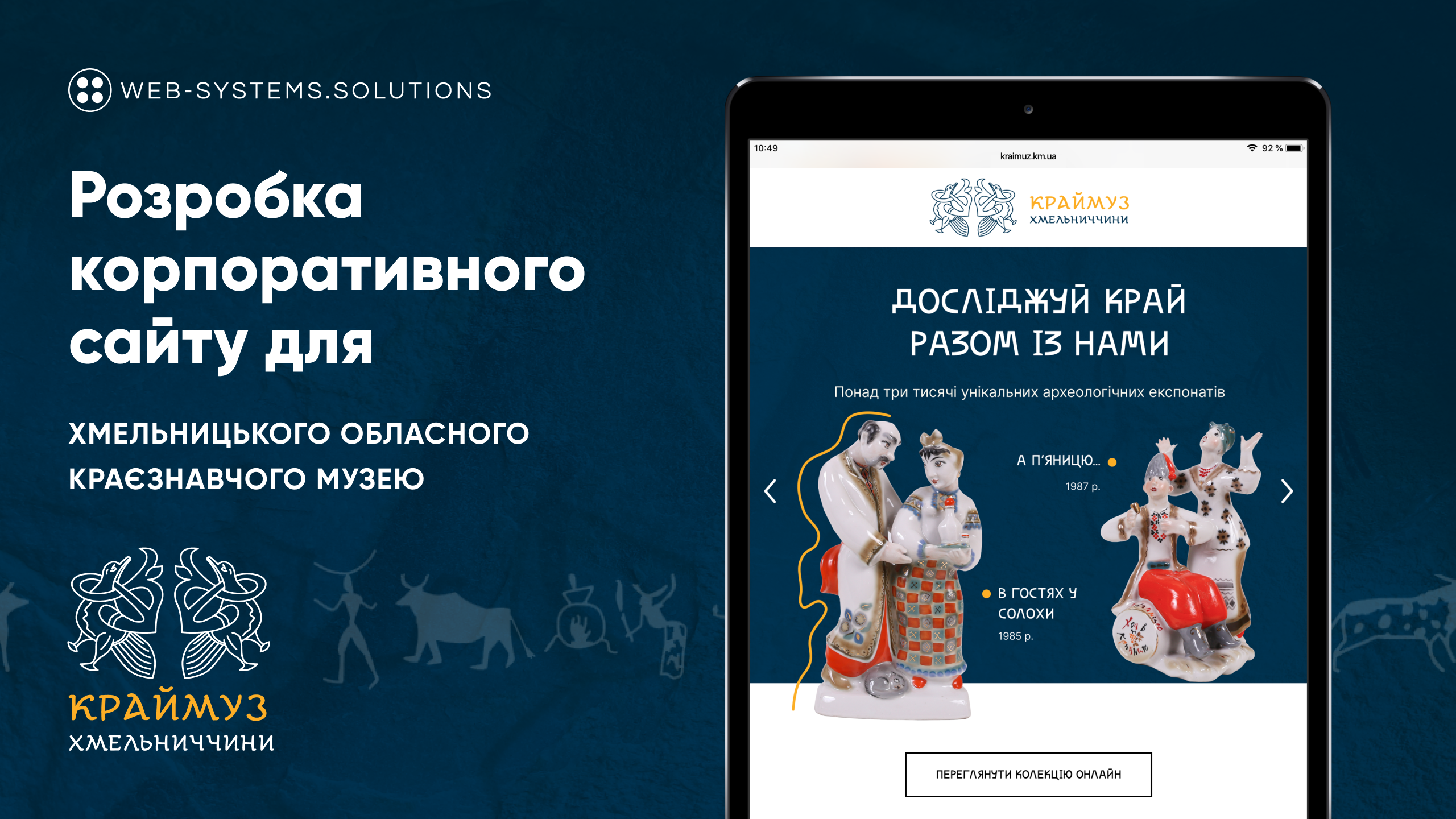 Task
create a modern and interactive website for visual viewing of exhibits online;

develop a unique design, logo and additional identity, using symbols specific to the Podillya region;
the site should provide a good qualitative picture of the collections and exhibitions, information about them and become a сontact point between modern digital society and the physical location of the museum.
Challenge
Our Client, led by the head of the museum Olena Mykolayivna Brytska, got acquainted with our case for the Khmelnytsky Regional Art Museum and was inspired by its own website, which would promote the Museum of Local Lore. An important issue was to introduce an interactive review of exhibits, because not everything can be put on physical inspection. Also, we needed an original logo, stylish fonts that will distinguish the museum from the general range and attract attention.
Solution
we chose CMS WordPress to handle a lot of content;

we developed a corporate design according to the museum's message and with elements of the oldest symbols of Podillya inhabitants;
implemented a convenient format for online tours with the help of the sections "Exhibitions", "Expositions", "Quests", "Master Classes", "Collection", etc.
dynamics when viewing objects + slider;
access to the museum's digitized collection + easy site search;
implemented multilingualism: Ukrainian and English, to promote the resource among tourists and visitors of the city;
implemented the donation program "Support museum": every fan will be able to financially support the growth and development of the museum or make a contribution to the replenishment of the collection;
realized a convenient form of feedback for questions, messages, pre-booking tours, quests, workshops.
As a result, we created a modern, interesting, interactive corporate website for a convenient format for reviewing historical objects, exhibitions, the latest news and upcoming events that are relevant in the museum right now.
Let's start project together!
To lead the eCommerce market, you need ambition and possibilities to grow. We assist our clients in achieving real business results.