What is Shopify?
E-commerce platform
It is a web-based platform for online retailers. It's not a marketplace, it's a tool to build your own brand store.
Marketing tool
Shopify provides a virtual marketer who will automate email marketing as well as run Facebook and Instagram ad campaigns for you.
Payment system
It can be integrated with different payment gateways. But it also has its own payment system which accepts payments from all international cards and doesn't incur any transaction fees.
Shopify
01
We help you choose a Shopify plan suitable for your business tasks.
02
You decide whether you want to use one of the themes offered by Shopify or a unique one.
03
We customize the theme you picked or build a theme from scratch for you.
04
We set up your online store, so you can start to sell immediately.
Why is it so popular?
It is everything in one place
For a relatively low cost, you can get everything you need to set up a fast, reliable and easy to manage an online store
It's progressive
Shopify stays on top of latest tech trends. It's cloud-hosted. It implements AI (virtual employees). It is designed for people
OpenCart
Shopify
What are the advantages of Shopify store?
Easy to set up
You don't need to use any third party services to start selling with your Shopify store. It gives you everything you need in order to set up a store including hosting
SEO-friendly
Store built with Shopify is absolutely beneficial for user experience and SEO. The platform provides powerful SEO features, as well as gives you access to advanced analytics
Easy to manage
The admin interface is intuitive and user-friendly. You won't need any technical skills and knowledge to manage it
Always up-to-date
Also, Shopify provides server maintenance and takes care of upgrades to keep your store available at all times and ensure that it has fast download speed
Mobile optimized
Website built with Shopify will be mobile optimized which is an essential, not optional requirement today. All Shopify themes are mobile optimized
Easy to promote
It's easier to promote as Shopify gives you the opportunity to integrate your online store with popular social networks as well as run ad campaigns there
Shopify
What we can do using Shopify?
Here is couple of projects with CMS Shopify
Why do we care?
No, Shopify doesn't pay us to advertise their product. We are not the platform creators either. So why do we recommend it to business owners? We've been working as the online store developers for 12 years already. We saw how e-commerce development has been changing over the years. We have enough experience to compare different solutions. Shopify is definitely one of the best technologies we worked with. We offer only the best for our Clients!
"No, Shopify does not pay us for advertising its product."
Shopify
Shopify Plus is a solution that blurs the lines of scaling up online sales.
The world of e-commerce is changing. It's time to change with it. Shopify Plus is the only cost-effective platform for large e-commerce players and it really provides changes. It is designed for dynamically growing sellers and brands.
10 000+
Shopify Plus users are e-commerce leaders.
175 countries and 25
languages in which you can sell
10 978
orders made every minute through Shopify Plus.
Shopify VS Shopify Plus: what's the difference?
The original Shopify tariff is a great option for small and medium businesses that want to increase their online sales. But if your company is an enterprise that has high sales turnover, you will need a more customized solution. That's where Shopify Plus appears.
Shopify
Support by phone, e-mail and in a chat.
Customizing the Shopify theme with the help of the editor.
It is difficult to move on to a completely different theme.
A few staff accounts with limited functionality.
Special tricks are needed to adjust the checkout.
Shopify
Plus+
A personalized Launch Engineer is assigned to your site.
Access to "Liquid" - a Shopify's theme language that allows more customization and its changes at the code level for greater control.
Unlimited number of staff accounts, more control over staff actions and customization of additional permission settings.
Customized checkout settings based on customer experience and other details.
Access to Shopify Scripts - an editor that gives you finer control and settings of customizing shipping methods, customer fields and payment options.
Shopify Plus users also have access to exclusive Shopify apps that are not available to regular Shopify users.
Read more
Are you ready to get started with Shopify?
You will get much more flexibility, more support and
more customization and opportunities for expanding your store.
CMS Shopify apps
Modules for CMS Shopify help you expand the capabilities of your online store. They help solve problems for automation, marketing, accounting, etc. Sometimes it is difficult to find ready-made solutions for solving problems. This is why our development team is always passionate about custom tasks.
An example of modules that we developed from scratch
Electronic cash register is a module designed for businesses of any size. Our module integrates with the checkbox.ua service and helps to reduce the cost of registering settlement transactions, as well as simplify reporting and control payments.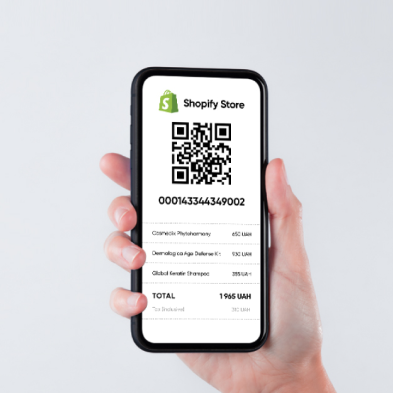 Install
Let's start project together!
To become a market leader requires ambition and the ability to grow continuously. At our company, we assist our clients in achieving their business goals.