When I shop on the Internet, especially on my smartphone, before making a purchase, I usually change several websites. Either the page doesn't load or the order process is terribly inconvenient. I leave the web page. Often you have to close one website and look for a similar product on another because of the bad user experience. I am sure that there are a lot of people like me. Those who just want a seamless experience as an online customer.
One of the most important aspects of running an e-commerce business is a customer experience. You want to sell, so why not to do your best to make sure your customers have a positive experience? In this article, we'll talk about e-commerce websites of fashion brands and how they can be improved. Here are some tips on how to make your customers happy.
1. You need a user-friendly design
What does it mean? Even if your business has a solid reputation and a bright brand, most people are only interested in your products, so focus on sales. If you want everything to go smoothly for your customers, your e-commerce website must have intuitive navigation, high-quality photos, and calls to action that allows users to view products, information about them and make the purchase easily. It is also important that the website is responsive: works on desktops, laptops, tablets, and mobile devices equally well.
2. Related Products
Displaying products related to what the user is looking for can not only help to make decisions but also increase sales. When a customer looks at a certain pair of jeans, you can offer the product that will look good with these jeans. That's why you need the Related Products section on your website.
For our clients who need a selling e-commerce website development, we recommend the EXTENDED OpenCart package which includes this feature.
This is how this feature is implemented on the website of the fashion brand KNITEL developed by our team.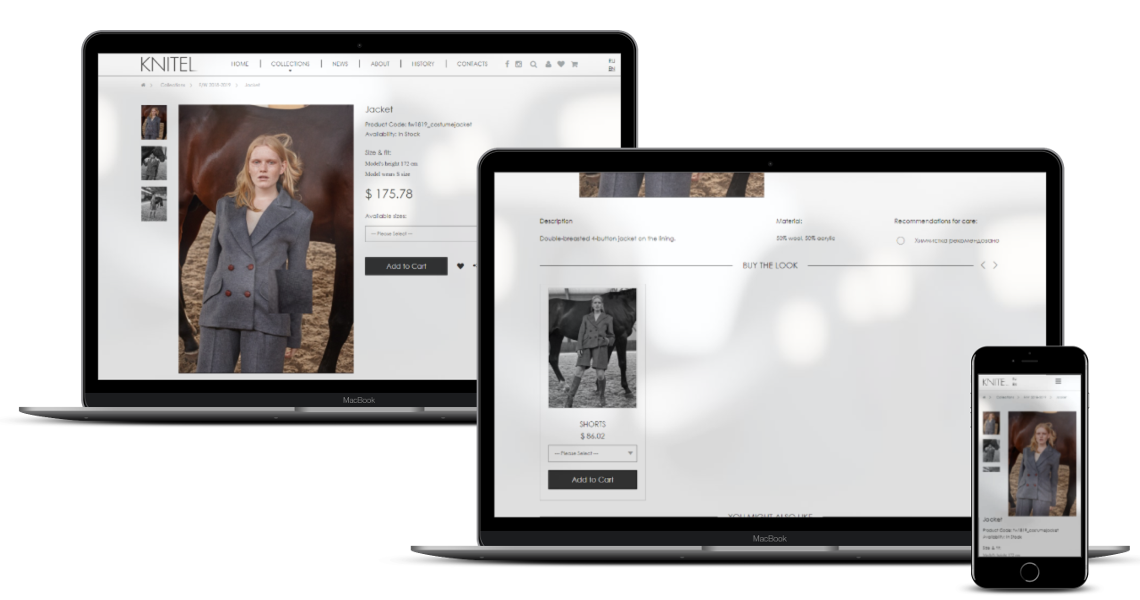 3. Size guide
Details on the size may significantly affect the decision whether to buy the product or not. Our client, the fashion brand Natali Dudka, always specifies the parameters of the models and the sizes of the clothes they wear, as well as provide an informative size guide. Knowing that the product will fit may help the buyer to purchase the desired product and reduce the chances that it will be returned.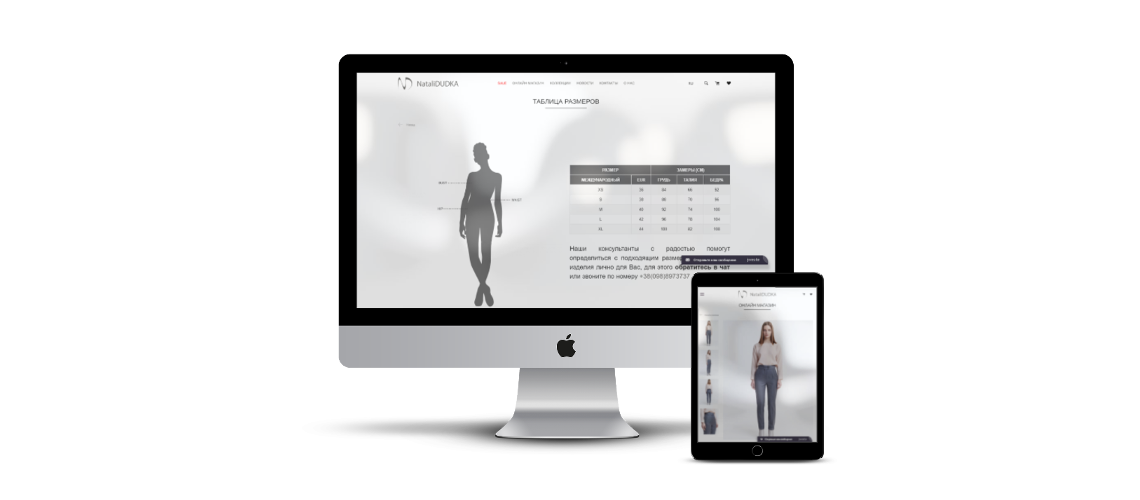 4. High-quality photos
Fashion e-commerce websites need good photo content. Make sure that the goods look the same on the photos and in real life. Also, a great solution for a fashion online store will be a photo gallery where the users will be able to see how the products they like look on different models. We added a gallery module to the Natali Dudka website, so the customers can view the collections of the favorite designer easily.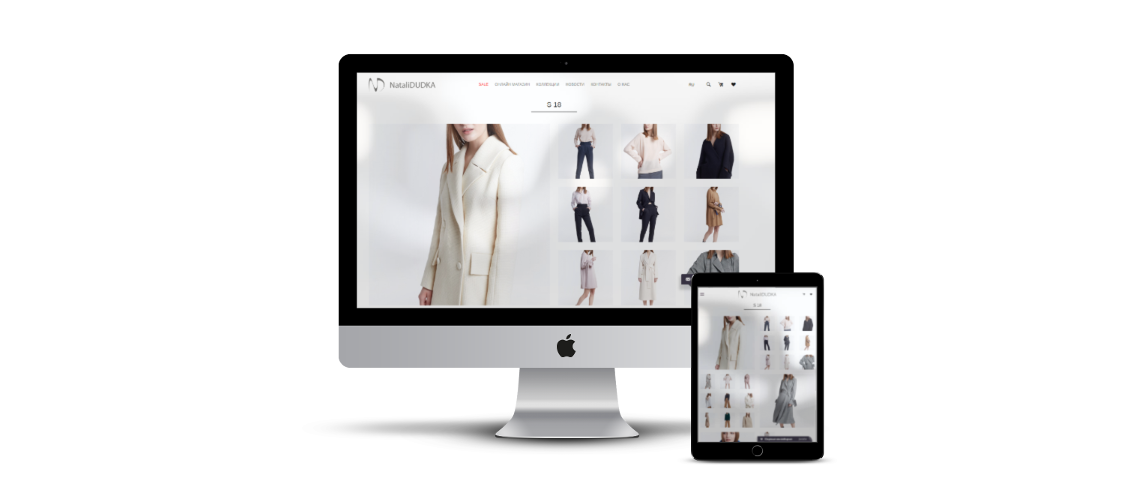 5. Convenient checkout process
Checkout is the stage at which users tend to leave the website the most often. Among the reasons why the customers abandon the shopping cart without having purchased anything is a too complex order form, the procedure that takes too much time, the price that is higher than expected.
Users should be able to enter information about their credit card, specify shipping details, see the price of each product and use auto-fill if applicable easily. The quick purchase option that allows you to go through the checkout process without registration will be useful. This feature is present on almost every e-commerce website that we developed.
For the fashion online store KNITEL, we have developed a convenient checkout form where you can specify the quantity, check the price, see the product image and finish the checkout process with or without signing up.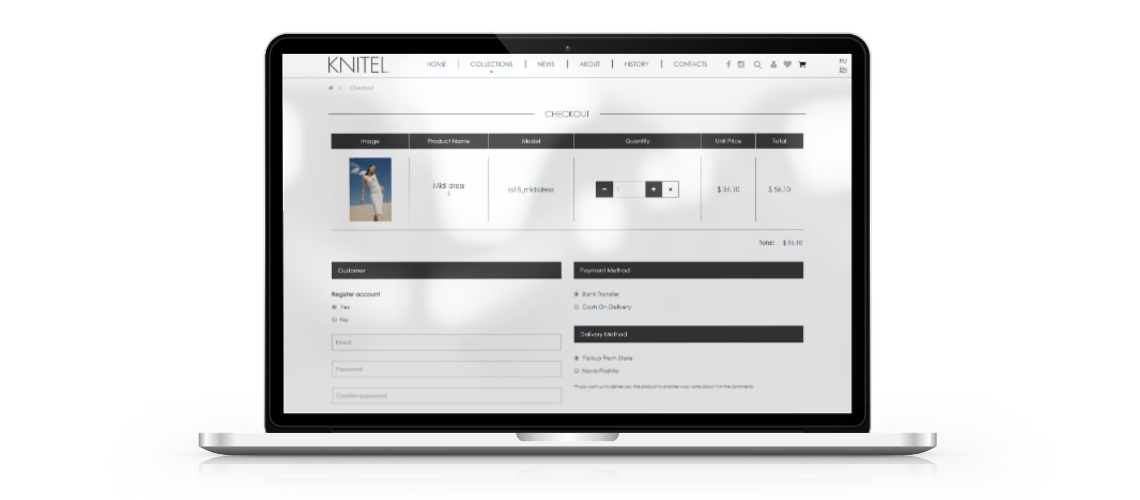 6. Make sure all your web pages work
You will be surprised how many 404 pages (error pages) your website may contain. Nothing can lead to a massive drop-off like a dead page or a broken link. Broken links can occur if the website structure or URLs were changed or when you delete the files from a site. All pages within the website are interconnected. Any changes may cause certain links to stop working. You can use online tools to check a website for broken links, but these tools are not free and also require some knowledge of SEO, so sometimes it's better to ask a website development and promotion expert to help.
If you decided to order an e-commerce website development, participate in the process to make sure that the designer takes into consideration all the usability standards described above. The design should be not only beautiful but also properly built. Website search engines optimization is not separate from the development stage but a part of it. Its promotion should be foreseen at the stage of structure development. It is better and less expensive to make it once but correctly than to redo a poorly made product. Contact the companies that provide a full range of website design and development services, as well as have expertise in your field. After all, the development of e-commerce website also requires an understanding of the Internet sales specifics. There are a huge number of websites on the Internet, but only a small part of them can really make users happy.