Since Canada and the United States legalized the use of cannabis for adult recreational purposes, the market for its products began to expand and legally go online. But selling cannabis comes with its own unique set of challenges, especially if you're selling online. The first is the age limit.
How to verify your buyer's legal age, establish non-burdensome rules when buying cannabis online, and legally sell cannabis in Canadian or US online store?
In this article, you will find the basic rules you need to follow for legal selling cannabis online in Canada or the US. We share the examples and our experience of developing an online store for the Canadian cannabis retailer "Dank".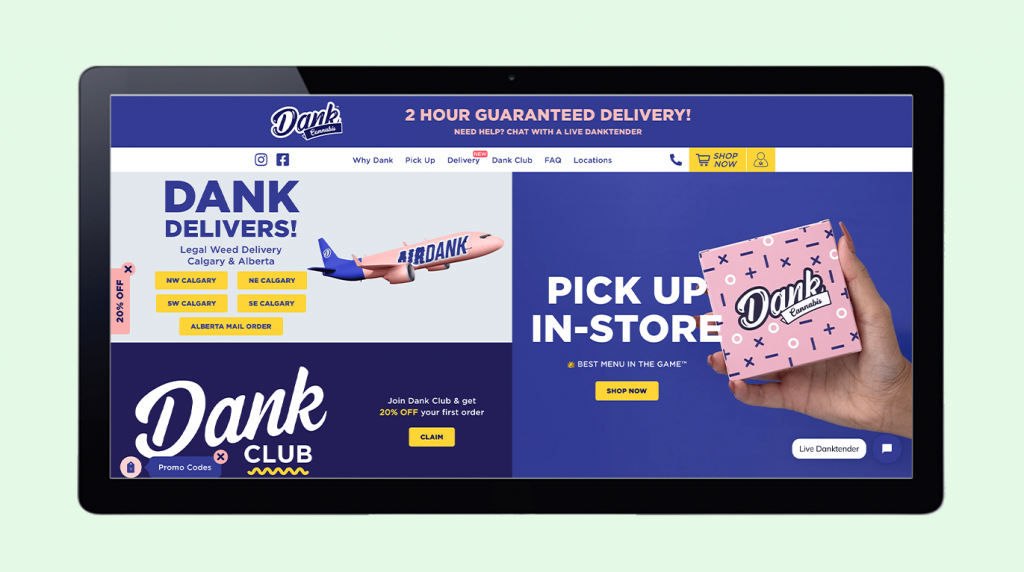 5 Restrictions in selling cannabis online
Age.
Provincial or territorial.
Advertising restrictions. (Promotion of cannabis products in search networks).
Taxes and pricing.
Obtaining a federal license.
Disclaimer – please pay attention! At this point, we need to warn you that this article is primarily intended for e-commerce business owners in Canada and the US who are older than 18 years.
Also, age and other restrictions may vary in different US states, Canadian provinces or territories, and new laws in those countries may differ from the information in this article. Be aware of local laws and be up-to-date before starting to sell cannabis online.
At Web-Systems Solutions, we are not lawyers, we are specialists in implementing technical things for your business. 😉 If you are not familiar with the laws of cannabis sales, please seek legal advice.
Let's get back to the solutions for selling cannabis online in 2022.
How to sell cannabis online in Canada?
Canada became the second country in the world to fully legalize cannabis. (note. Uruguay became the first country in the world to fully legalize cannabis).
In Canada, you can use cannabis for medical purposes since 2001, and since October 2018 – not only for medical purposes but also for recreational (but up to 30 grams per person). Under the Cannabis Act 2018, you can sell cannabis online, but there is some confusion about the types and components of cannabis that will be available for sale. For example, products containing cannabidiol (note: cannabis oil, plant extract) will be legal to sell for both medical and recreational use. Also, you should pay attention to the set standard for the amount of product and THC in the package. (note: THC is the main psychoactive component of cannabis).
Do you need a federal license to sell cannabis in Canada?
In Canada, all procedures related to the production, distribution, processing, and sale of CBD require a license. If you want to start a cannabis e-commerce business, you must have a license to sell products that contain CBD.
To sell cannabis in Canada, you need a Health Canada license. It is required to sell cannabis to:
wholesalers and distributors (which are in turn supply the provincial and territorial cannabis retailers),
and/or
individuals who have a physicians prescription and have registered to obtain cannabis products for medical purposes ("registered patients").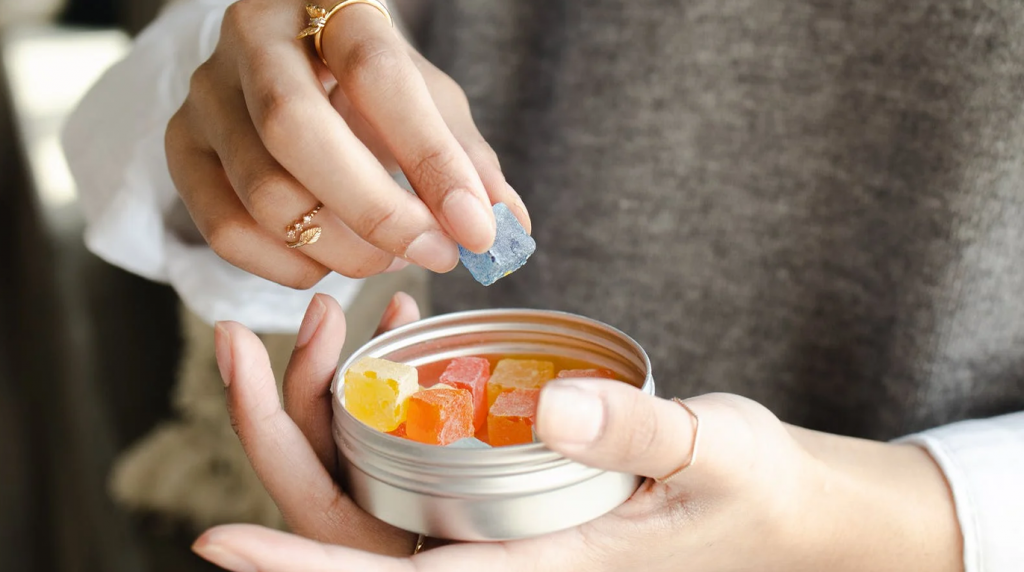 How to sell cannabis online in USA?
In the USA, the use of cannabis for medical purposes is currently legalized in 33 states out of 50, and for recreational (aka personal use) is allowed in 16 states out of 50. These are Virginia, California, Alaska, Arizona, South Dakota, Colorado, Illinois, Maine, Massachusetts, Michigan, Montana, Nevada, New Jersey, Oregon, Vermont, Washington, and the District of Columbia. (note: In Virginia, the law that allows the free possession and sale of marijuana will come into effect in 2024).
Age restrictions for cannabis sales in Canada
Most provinces and territories have decided to align the minimum age for cannabis and alcohol use.
The minimum age for the use of cannabis is set at 18 for the province of Alberta, it was decided to raise it to 19 in the provinces of British Columbia, Saskatchewan, Ontario, New Brunswick, Nova Scotia, Prince Edward Island, Newfoundland, and Labrador, Yukon, Nunavut, Northwest Territories. The province of Manitoba has raised the minimum age for marijuana use to 19, even though the minimum drinking age is 18. In 2020, the province of Quebec raised the minimum age to 21.
Age restrictions for cannabis sales in USA
In the United States, online sales of cannabis are now allowed, but in various states, there are still brutal sales licensing conditions and the main age restriction. Cannabis in the USA is allowed to be sold to ​only people 21 and over.
Before creating an online store, make sure you know the laws of the territory where you will be selling cannabis, inside and out.
3 rules for selling cannabis in online store
Always check the sale laws and personal possession of cannabis in your province/state.

Set the minimum age to access the store according to your state/province law.

Learn about CMS, payment services, and delivery services that work with cannabis e-commerce.
How to set the minimum age for selling cannabis in an online store?
A warning about the age for the legal purchase of cannabis products should be placed in the header or immediately after clicking on the link of your online store. Already at the checkout, when placing an order, the buyer must undergo mandatory age identification.
For this, you can use official services for checking documents. It is a ready-made solution that will be integrated into your online store. It is an automatic system for obtaining and verifying data with a global search for ID, including passports, driver's licenses, and personal identification codes.
The buyer takes a photo or enters his documents, and the service performs identity verification and age authentication in a few seconds. Only after that, the buyer will be able to place an order and make future purchases, provided by the license personal account of your online store.
So, in the Canadian store "Dank", BEFORE the buyer can view the catalog of products, a page is displayed that requires a one-time verification of the identity card (with simultaneous registration and creation of a personal account).
Features you need for your online store with cannabis products
Weight limit when purchasing (make the "Buy" button inactive if the number of grams will exceed the permitted weight per person. In Canada, persons who have reached the age of 18 are allowed to possess up to 30 grams of legal cannabis. Please note, that those restrictions may vary depending on the laws of the province).

Show the user the rules and implement a line with the Terms and Conditions of the site, and only then allow them to proceed to the checkout.

Create the user's path and design the pop-ups with the choice of location, the physical store where he/she will receive the product, or the offer of delivery by courier or delivery service.

To accept payments online and process customer credit cards on your site, you need a solution that will keep your unique business running. Unfortunately, Shopify's default payment processor doesn't support cannabis products, but there are plenty of alternatives with more flexible policies. You need to find a third-party payment gateway like "Bankcard" that can provide you with options to create a merchant account.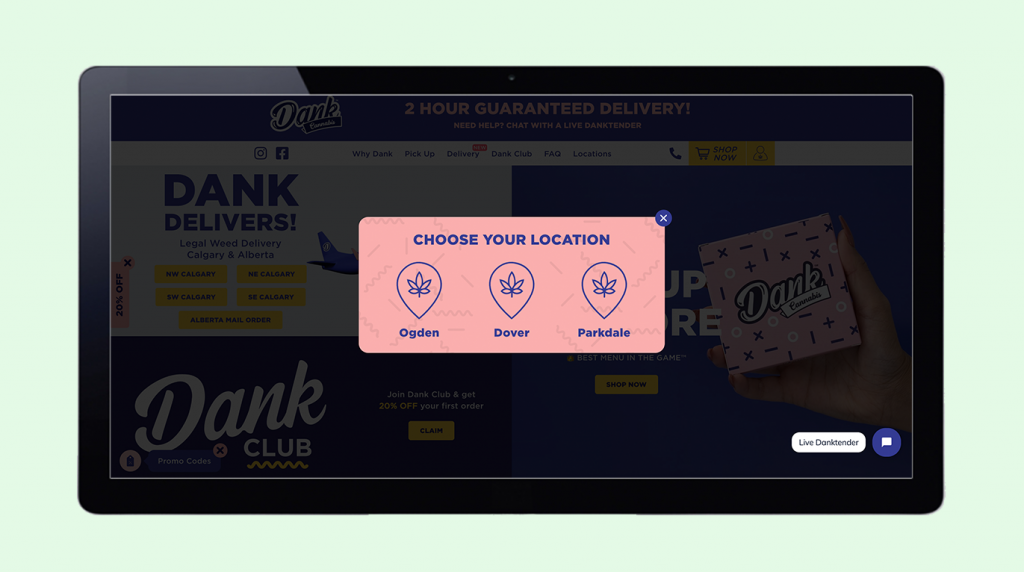 How to choose a payment system for selling cannabis in Canada or the USA?
Cannabidiol belongs to the category of high risk in sales due to the above restrictions and legal provisions. In addition, the banks that service your account and also accept payments in your online store do not want to have the risks associated with cannabis products. Therefore, you should research payment systems before creating an online store.
For example, PayPal and Stripe are two popular payment systems that do not accept payments from cannabis sellers. This means that you need to spend a little more time looking for the bank and payment system that will best suit your business needs. Below we have listed 3 payment systems that work with "high risk" e-commerce. You can read about their conditions:
– PaymentCloud,
– SMB Global,
– Easy Pay Direct.
How to choose a CMS for creating an online store for selling cannabis?
In Canada, sellers who want to sell cannabis must have a cannabis license and use Shopify Plus. Also, be sure to review the current Shopify Terms of Service and Acceptable Use Policy to ensure that you start selling in compliance with all applicable laws and regulations.
In the USA, you can start selling with Shopify's regular tariff plan. How to choose the one read here. You will also need to be attested for the sale of hemp and cannabis products and comply with the laws of the states where you want to sell and deliver.
CMS WordPress allows you to create an online store for selling cannabis, especially convenient in combination with the WooCommerce plugin.
Web-Systems Solutions works with both Shopify and WordPress for e-commerce. You can view our portfolio here.
It is worth adding that in the coming months and years, the governments of Canada and the United States will be reviewing cannabis regulations. If you want to open an online store for selling cannabis, you should carefully follow the law of your country.
This simple guide to getting started selling cannabis in Canada and the US will cut down on your research time getting started. If you are know all the features of this business – contact us
here
, and we will create an online store with all features for e-commerce!
As a reminder, providing or selling cannabis to a minor, possession of cannabis in excess of the permitted amount, and illegal distribution can result in criminal penalties, including prison terms.