What is OpenCart?
OpenCart is a very popular system (CMS) to create an online store of any complexity and managing content in it. It is a fast and reliable server solution with a variety of features that make the online store more attractive to users. And the process of developing a site on OpenCart and page layout is fast and affordable.
OpenCart is in the TOP 5 of the best CMS for online stores and is now used by more than 300,000 sites. This CMS has been on the market for 18 years and has established itself in the commercial sector as a convenient system with a high level of security.
The OpenCart system is completely free and also it is open source. CMS is freely available on GitHub. The OpenCart engine is built using the modern MVC architecture, and the software is written in PHP, so those who have programming skills can make changes to the source code. If we talk about paid additional modules, they are much cheaper than in other CMS.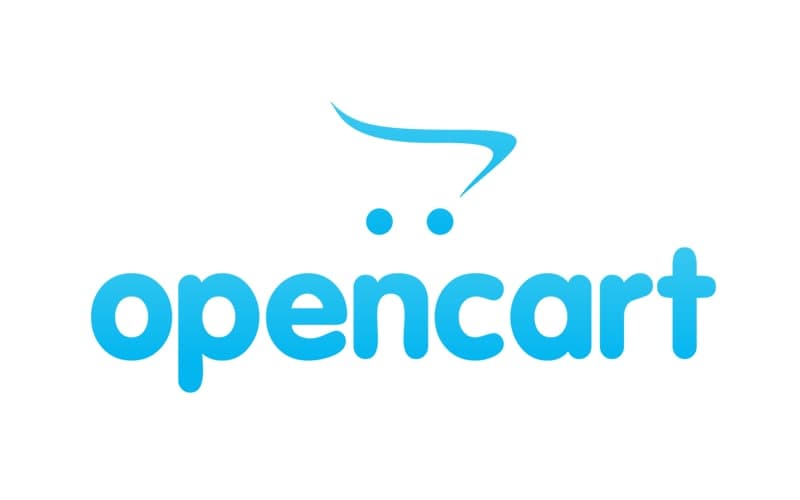 What business is an online store on OpenCart suitable for?
CMS OpenCart is best suited for small and medium-sized companies. It is an ideal choice for newbies and established businesses, although OpenCart offers a solution for absolutely all levels of e-commerce. Regardless of size of your business, Opencart is a powerful choice for e-commerce. Right from the start, you have everything you need to launch and operate your online store.
How to start with OpenCart?
First you need to download it from GitHub (official repository).
Then upload the files to the server and complete the installation process.
Next, connect the databases.
After that, you can already select a specific layout and configure localization options.
The next step is to start filling your store with products.
Also, you need to supplement the store with modules.
Functionality and features of OpenCart:
Online stores on OpenCart support over 20 different payment systems. Buyers can pay for their orders using such popular systems as Webmoney, Qiwi, LiqPay and Robokassa.
Integration of delivery systems.
OpenCart allows you to integrate 8 shipping methods. You can choose the one that best suits your business.
CMS elements are divided into modules that extend functionality and make the platform extremely flexible. OpenCart offers a wide variety of extensions that you can install.
Business owners can easily measure the success and development progress of their online store. You can track your performance and use it to scale and increase profitability.
A wide range of useful tools.
It is a multilingual interface, with different currencies, product card options, and branched product and vendor categories.
OpenCart has primary optimization in its own engine, which allows the online store to get to the TOP of search results for the specified keywords. Plus, OpenCart e-commerce sites are search engine friendly and can be optimized seamlessly with a full suite of SEO tools.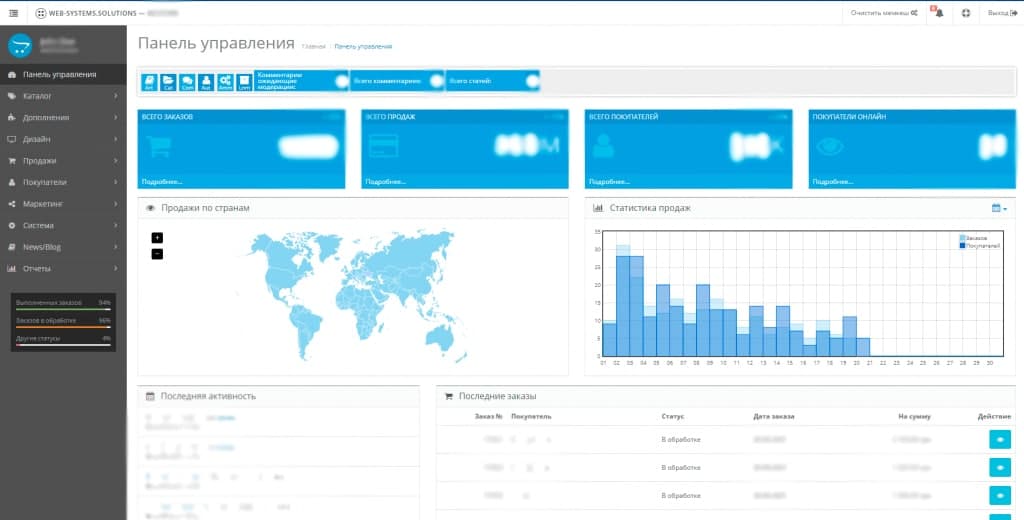 These are main functionalities that are important to both buyers and sellers. They form the store interface that directly affects the purchase, as well as the quality of the product. The interface of the store on OpenCart is intuitive, so shoppers will have no problem placing their orders. For sellers, the platform offers a large number of built-in features to facilitate the selling process. Next, let's go through each of them in more detail.
Basic OpenCart functionality that is available by default:
adding an unlimited number of products, as well as their categories and subcategories;
sales of digital goods – e-books, music, films, software;
product ratings, reviews, comments;
built-in affiliate marketing system – a method of promoting a business on the network;
bonus points option (the seller can create a loyalty system, so user will use award bonus points for further purchases);
multilingualism (languages that are not in the localization can be added independently).
The basic functions of Opencart will be enough for your customers to set filters on products according to the proposed categories, pay in a convenient currency and receive notifications about the order status and promotional offers by e-mail.
In addition, the basic functionality can always be increased with the help of modules. With them, you will have access to a large number of additional options. For example:
✓ email confirmation ✓ product comparisons; ✓ lists of similar products and bestsellers; ✓ fast checkout on one page; ✓ set color for each order status; ✓ sending messages via SMS; ✓ communication with clients in live-chat right on the site.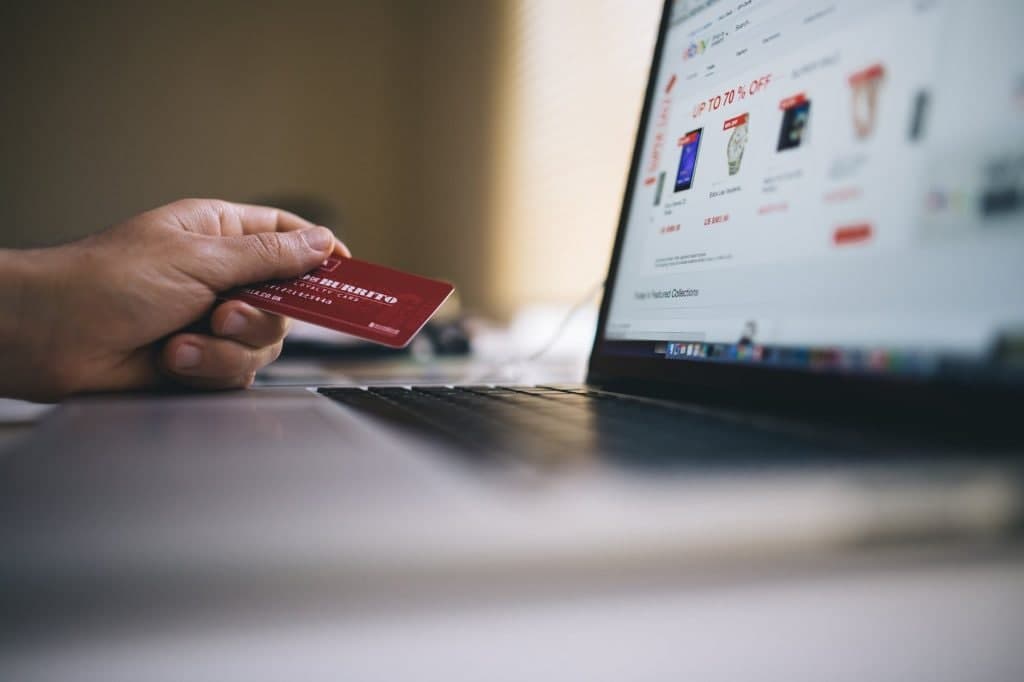 Functions for administering an online store on Opencart:
convenient admin panel, which presents data on orders, sales and customers;
for each product, you can add different parameters (color, size, other characteristics);
use one admin panel to manage multiple stores;
sales reports are available (for revised items and for purchased items)
integration with Google Analytics and CRM;
synchronization with accounting systems such as 1C;
detailed documentation to help sellers better understand the functionality;
store backup (the backup can be restored in the admin panel).
How to set up an online store with OpenCart?
It can be easily configured on any hosting that supports PHP and MySQL. In this matter, OpenCart has the highest performance when compared to the competition. At the same time, the platform has minor hosting requirements.
You need hosting so that users can find a store on the Internet. We do not recommend saving on it, since it depends on how well and quickly the site will be displayed in search engines. Domain registration is paid separately. By the way, when you create a domain, it is better to include the name of your store than keywords, they will not raise you in the search results in any way.
More information about hosting, domain you can find in the video:
In addition to hosting, you will have to pay for the design and additional functionality of the online store. On average, a good plugin will cost up to $ 100, a template – $ 20-50.
The development of the interface and server on OpenCart is simple and convenient. Even a beginner can find tutorial videos and articles on how to customize the basic components of an online store page on OpenCart. However, if you have never worked with CMS systems and do not know the programming language, the help of developers will definitely not hurt you. At least – for the integration of complex modules. And if you are planning a large-scale e-commerce project, then you will have to involve an SEO specialist, copywriter, and marketer.
Advantages of an online store on OpenCart
First, there is free support and frequent system updates. OpenCart features provide an easy and accessible experience for businesses that go online. Although, if you are planning to expand an existing online store or you have a fairly large company, then structural support and expansion may somewhat limit your scalability.
SEO optimization. To increase sales, you need to optimize your site for search engine standards. The OpenCart platform offers a basic set of optimization tools. Without downloading additional extensions, you can generate clear URLs, create unique titles and descriptions, add keywords by which search engines will issue store pages and close technical pages from indexing. Of course, to have access to more advanced features, you need to buy paid apps. They will allow you to create a sitemap, optimize your 404 page, add meta tag templates, and much more. Default responsive Opencart templates. That is, the pages of the site will be displayed correctly on various devices: smartphones, tablets and computers. Marketing. OpenCart has a built-in module for tracking links from ad campaigns. This will help you better measure the effectiveness of your ad.
Disadvantages of an online store on OpenCart
OpenCart is not that simple as Shopify for business owners who don't have technical expertise. A basic familiarity and understanding of the technical documentation is required.
Limited functionality. In addition to the basic functionality, in order to maximize your online store on OpenCart, you will need to add modules. This will take additional time and resources to test extensions and limit scalability.
OpenCart's wholesale functions are not yet well-configured as other trading methods. Wholesale e-commerce will require a lot of special work and installation of additional functionality.
Opencart does not provide for removing duplicate pages. The SEO specialist has to fix this problem manually or download the appropriate plugins.
What e-commerce solution do we prefer?
If we talk about technologies for developing online stores, then we cooperate with such well-known CMS as Shopify, OpenCart and WordPress. These content management systems are ideal for solving business problems of different sizes. For large projects with non-standard functionality, we select custom solutions and develop the CMS. The functionality that we are implementing for online stores on OpenCart already includes design and layout. However, you can always make adjustments based on your own needs. We help create an OpenCart store that will set your business up for success.
Examples of stores on OpenCart
We propose to move from theory to real examples. Check the following online-stores that we have developed to make sure how stores work and scale on this CMS: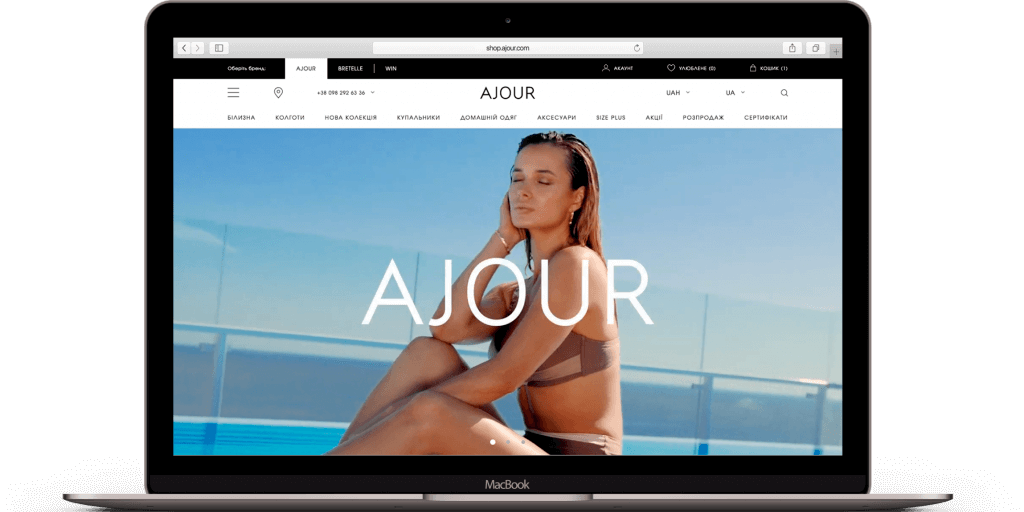 Development of the online store for a manufacturer of lingerie, swimwear and home clothing.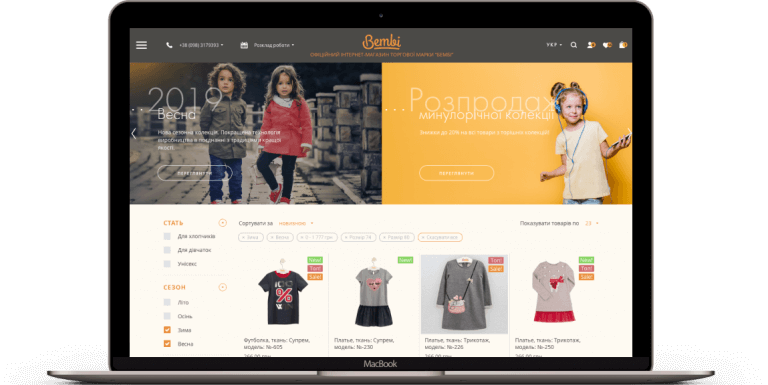 Modern and functional online store for selling baby clothes.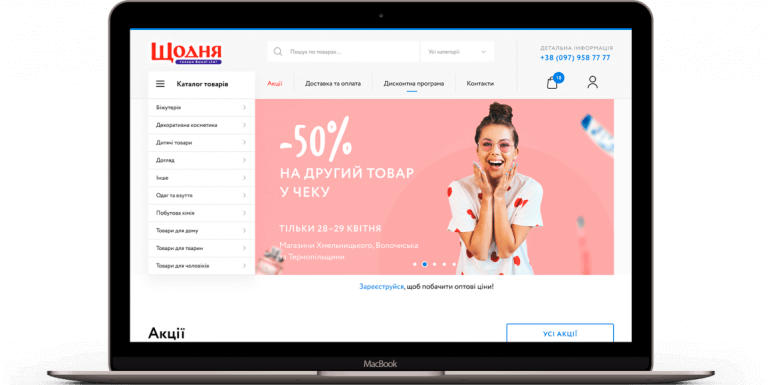 Online store for a network of stores of household chemicals and cosmetics.
Moreover, long-term cooperation with the OpenCart platform has brought us to the list of TOP-5 best developers of online stores on CMS OpenCart in Ukraine. We are ready to help you create a convenient online store and achieve high business results! Check out the tariff solutions here.