Start with your business needs
Before you start comparing technologies for website development, you should look at the market in which your business operates and consider its strengths and weaknesses. Where are you in this market? What are your biggest benefits? Where do you need expert help? How much time are you willing to devote to redesigning or developing a website from scratch?
It is possible that you know what functionality you need and even have a complex technical task. In this case, just send it to the company and they will send you a calculation of the cost of your project.
If you do not have an understanding of how the site is developed, and a simple landing on a ready-made platform will not fulfill the goals of your business, you will need the help of an IT company or web studio to take care of developing the site for you. When choosing a development company, resist their projects, cases and expertise in social networks or a corporate blog.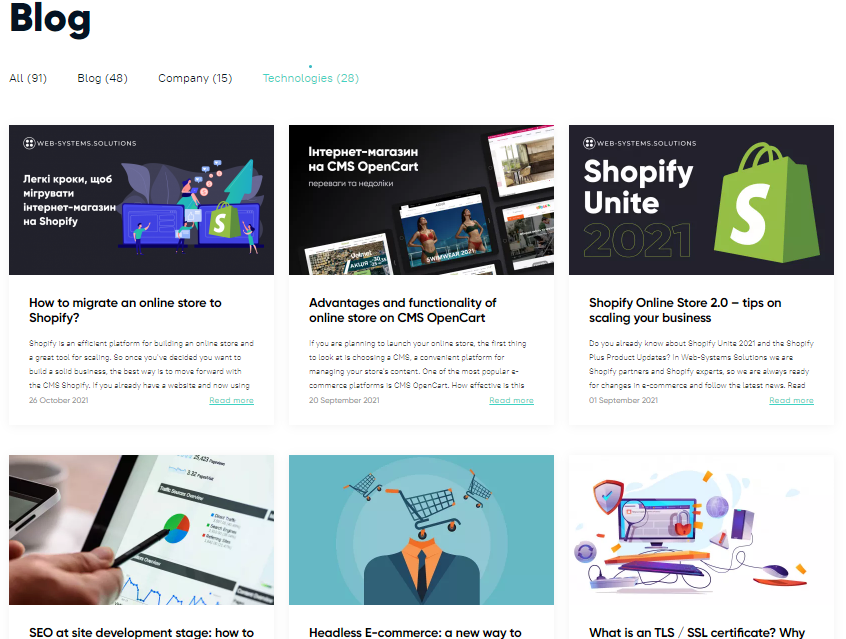 Next, you should create a second "wish list" where you highlight what your site should display/provide. For example, you need to frequently, and most importantly, easily update your product range. Maybe you want to introduce individual discounts, a loyalty program in an online store? Site integration with Instagram to automatically display photos from social networks on the site ? Different customer cabinets? Product card with ratings and video reviews? All this is discussed in the brief.
BRIEF and technical task (TT)
When you choose a web studio (if websites – then it is Web-Systems Solutions! 🙂 ) to develop a website, then first of all we determine what type of resource you need – a portal, marketplace, corporate website or online store. You will find these questions in the brief, which is a blank, formed on the basis of many years of experience. Therefore, you can easily determine the scope of work to develop the site, functionality, design example or consult with your personal project manager. The manager will support the entire process of developing the site from the first conversation with you to the launch of the site in the Internet space.
Once you have the answers to the questions we discussed above, it becomes much easier to make a decision and decide on the choice of CMS for website development.
How to start choosing a CMS for website development?
When you search for a CMS for website development on Google, you will see technologies such as Shopify, OpenCart, WordPress, WooCommerce, BigCommerce, Magento, etc. All of them can be compared with each other, all have advantages, all are inferior to something in front of others. But then we will consider and compare only the largest players in the website development market, and in general, those platforms with which we have been working for 12 years already have expertise, reviews and customer trust: Shopify, OpenCart, WordPress.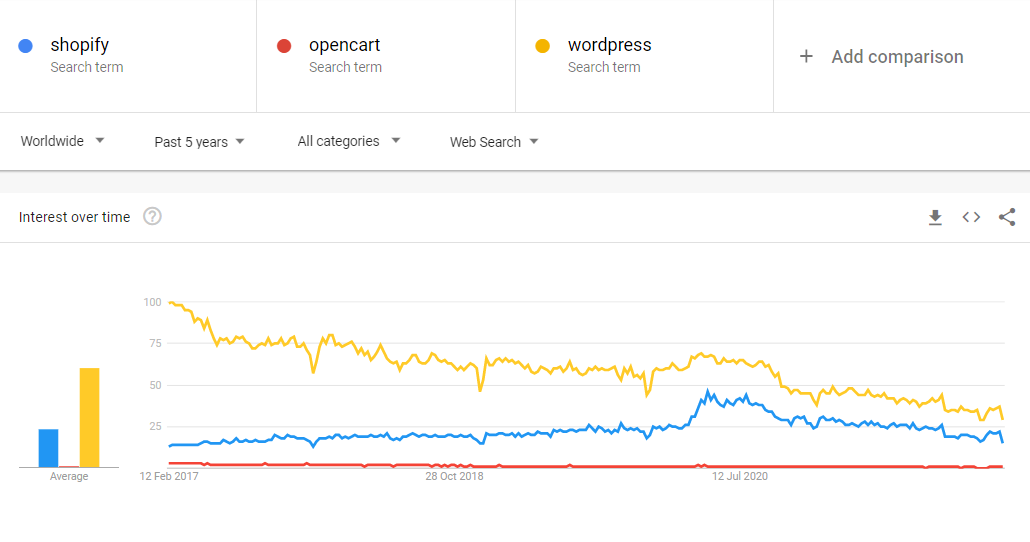 *Google Trends – interest in Shopify, OpenCart, WordPress e-commerce platforms in the last 5 years
CMS for corporate website development
Let's start with the functions that a corporate website should do:
this is yours company official online office in the Internet;
it is an element of the company's corporate identity;
contains detailed information about the company's products and services;
allows you to do marketing research using advanced web analytics services.
Read more about corporate website development here.
Such tasks can close CMS WordPress. This is the most popular content management system in the world.

*Google Trends – popularity of WordPress among the regions of the world over the past 5 years
This platform is more suitable for developing a corporate website, because it has a basic set of functional settings, has a very convenient and understandable site administration panel. WordPress comes with a wide plugin architecture and ready-made templates, so you can design a website to suit your business, portfolio or expert blog, which can be customized with a free theme. A website on the WordPress CMS can be easily deployed on any hosting, and additional integrations can be added by installing additional plugins.
But it should be understood that this case is about small projects. First of all, the WordPress content management system is designed to develop simple sites with a small user path that do not allow high loads. If you plan to administer the site yourself or have a small team of managers, you can order the development of a site on WordPress.

What corporate websites do we create?
Every business is different. Its problems and goals should be considered with individual thinking. Beautiful design is not enough in today's commercial web. We find solutions, design, analyze, develop and test each site so that our Client gets and grows with a solid and effective tool.
We increase conversions in all ways.
We don't do "candy wrapper without filling". Good design is vital for the first impression, but we combine it with well-written functionality. Thanks to the attention to detail and constant communication with the Customer, we find effective ways to reflect the personality of the business on the site.
We adjust to current SEO standards.
In order to attract visitors to the site, and in the future – regular customers, you need to work on its SEO promotion. What you see on the surface is just part of the work we do to ensure that your site ranks at the top of the Google search results and captures the attention of your client.
We use advanced technologies.
Our team has been developing websites for a long time, but this does not make us biased. We continue to acquire new knowledge and choose technologies that will be relevant and convenient for the implementation of the great ideas of our Customers.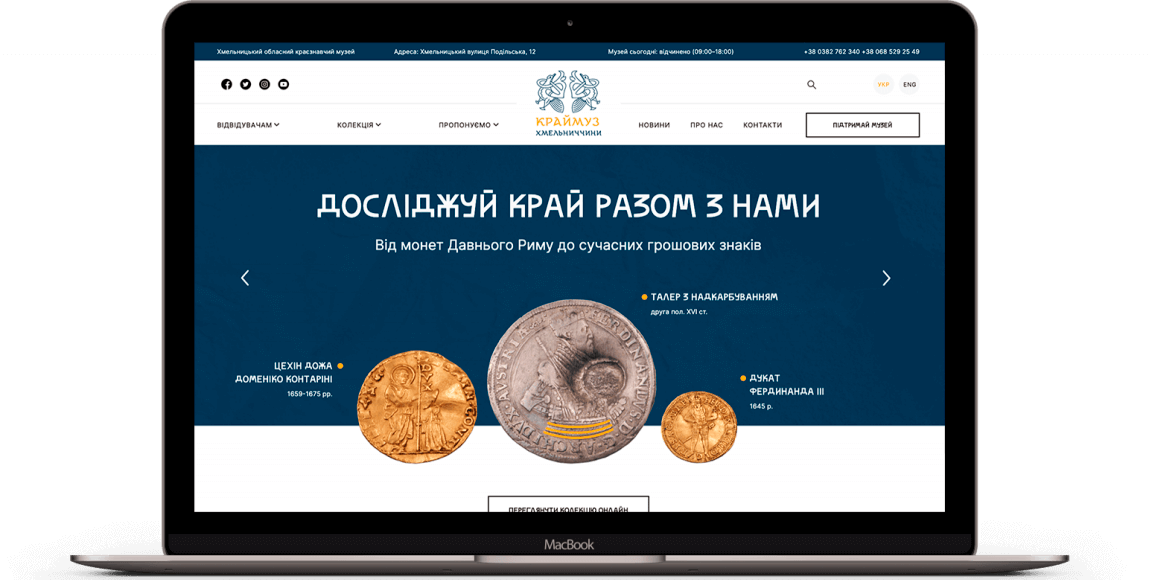 How we developed a corporate website for a museum of regional scale, see here.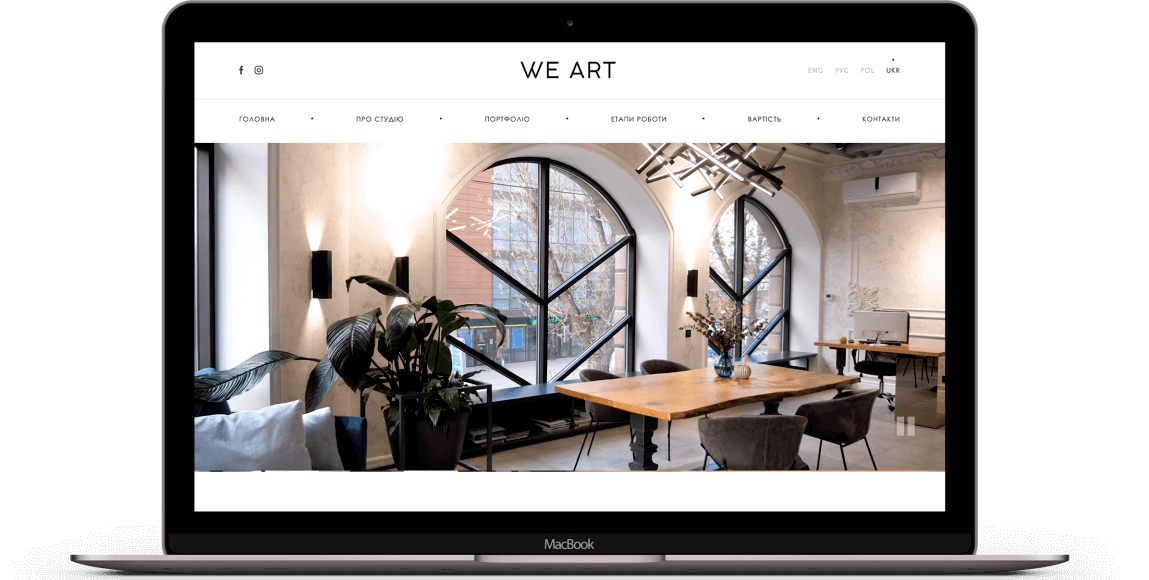 How we did the second consecutive corporate website redesign for an interior design studio, see here.
CMS for developing an online store
Speaking of CMS WordPress, this technology can be used to develop a website of any kind. In particular, you can run an online store. But for this you will have to download and install the appropriate add-on, such as WooCommerce.

What is WooCommerce?
WooCommerce is an eCommerce plugin for WordPress. It can be called a solution out of the box, because it allows you to develop a website without additional writing of code. The plugin already includes all the necessary functionality and is open source.
Therefore, in terms of opportunities for online sales, WordPress CMS technology alone is not enough. To develop an online store, you need to immediately consider the ready-made WordPress + Woo connection.
What does the WordPress + WooCommerce combination give?
With WordPress+Woo you get:
the ability to create an unlimited catalog of goods,
integration by default with the universal payment system PayPal,
ready-made discount management system,
customized personal account of the client,
basic analytics.
So, online stores based on CMS WordPress + WooCommerce are suitable only for small businesses and novice entrepreneurs who want to try their hand at commerce in a narrow product category.
Next, we will compare two popular platforms for creating an online store – Shopify and OpenCart. These CMSs have different audiences, different capabilities, but what they have in common is efficiency and ease of use.

What is OpenCart?
OpenCart was originally created specifically for online stores. Using this CMS, you can create quite competitive sites that will not be inferior in functionality to other trading platforms.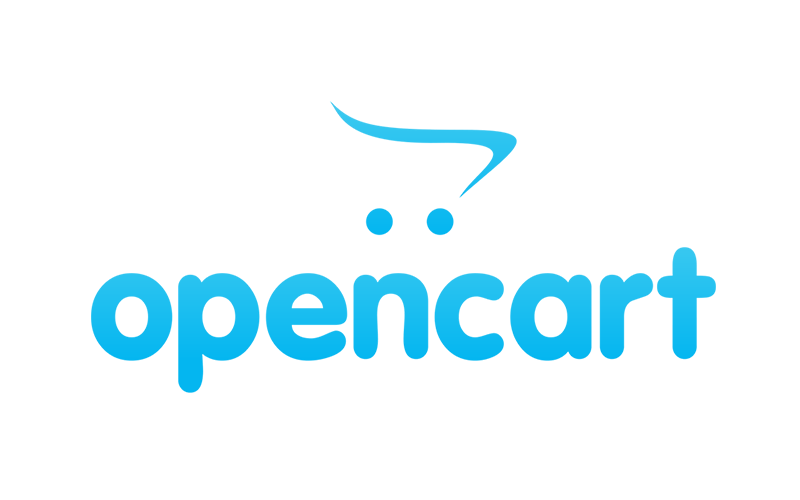 For whom is CMS OpenCart is suitable?
The main objective of CMS OpenCart is easy online sales, so we recommend choosing it for owners of small and medium-sized businesses who want to develop a site without large financial investments.

*Google Trends – popularity of OpenCart among the regions of the world over the past 5 years
What can CMS OpenCart offer?
Already in the basic set of CMS OpenCart there is everything you need to start in e-commerce.
unlimited product catalog,
creation of special filters,
the ability to integrate with various online payment systems,
individual client's office,
tools for analyzing sales and providing discounts (coupons, promotions, etc.).
The site on the OpenCart also has good growth potential. This CMS can handle both small and medium site loads. At the same time, in order to integrate accounting systems (1C), CRM, marketing tools and other individual settings, you should contact specialists with expertise in OpenCart. In this case, additional costs will be required. Read more about website development on CMS OpenCart here.
What is Shopify?
CMS Shopify is now used by more than 1.5 million sites around the world. It is a proprietary platform designed for e-commerce. CMS Shopify makes it easy to create an online store, manage products and accept payments from the dashboard. And at the same time – no worries about technical aspects: security, hosting, caching. Shopify takes care of every aspect so that the business owner can focus on growing and scaling.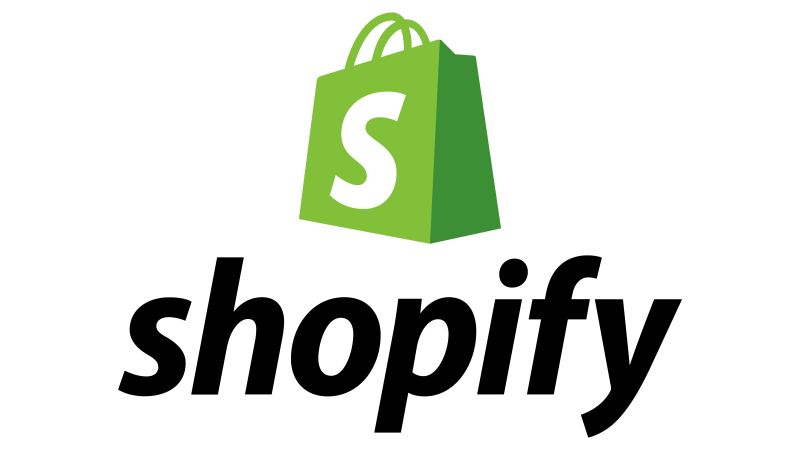 Shopify Themes for Online Store and Website Design
Both Shopify and OpenCart have ready-made themes for website design. Some of them are free. Higher quality and feature-rich themes tend to have a one-time purchase price.
Here we want to add some expert opinion – our team believes that Shopify themes are much better in terms of design and user experience (UX). They are also the most convenient for adaptation to mobile devices and tablets.
On the technical side, creating your theme and customizing its content is easier and faster on Shopify. It is also possible to customize business themes and change design elements, while OpenCart themes are more difficult to develop from scratch and much more difficult to edit and implement changes. Shopify requires much less coding and feature writing. A developer can create a site on the CMS Shopify in just a matter of minutes, which cannot be said about OpenCart.
Key Differences Between OpenCart and Shopify
Shopify has a higher rating from customers, with 99% of businesses satisfied with it, while OpenCart satisfies 95%.
Shopify has thousands of plugins in its own app store, while OpenCart has far fewer add-ons.
Shopify is easier to use, while OpenCart requires more technical skills.
OpenCart is free to install, while Shopify is a paid platform.
Shopify takes less site development work and charges an affordable monthly user fee.
If you want to develop a website that will serve as your sole sales tool, Shopify is a great option. Both OpenCart and Shopify support all the features you need to manage your store, from product management to order processing, to shipping and payment management. In addition, they offer a wide range of applications and extensions with various important individual features for customers and business owners.
But it's clear that Shopify is a bit ahead of OpenCart in its approach to growing a business. In addition to supporting omni-channel sales, Shopify uses more powerful tools to attract customers, recover abandoned carts, and increase conversions on the site.
So, OpenCart is suitable for online store owners looking to optimize their overall sales processes, while Shopify should be chosen by those businesses that plan to grow in the e-commerce market and scale sales and audience.

*Google Trends – popularity of Shopify among regions of the world over the past 5 years
What is Shopify Plus?
If the traffic in your online store is growing and the site starts to work slowly, we advise you to pay attention to the Shopify Plus tariff.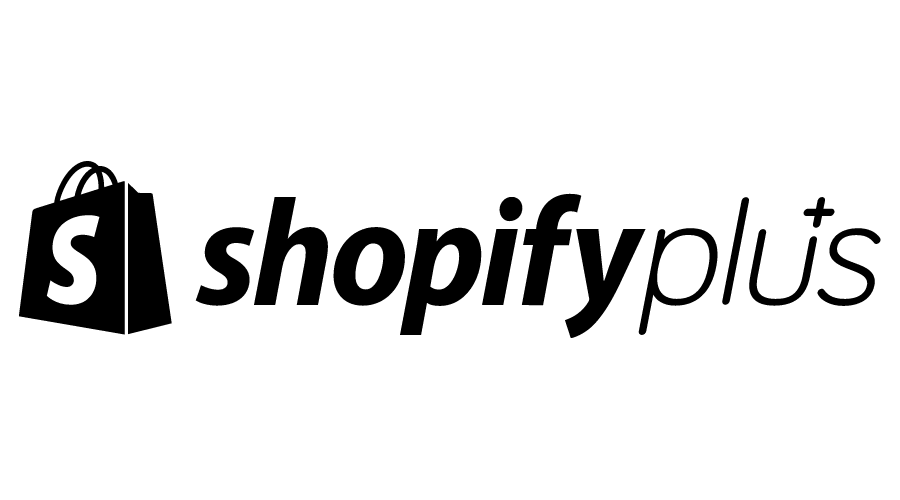 Why upgrade to Shopify Plus?
Shopify Plus is an omnichannel solution for large scale projects and large business owners looking to automate processes to focus on business strategies and building a global brand.
If you feel or are preparing for rapid long-term growth, the Shopify Plus plan is made for you. As official partners of Shopify, our team provides consultations, complex connection to the tariff and support. So your business can devote more time to branding and product development, and we will take care of the technical component of the online store.
Can I migrate an existing site to another CMS?
Yes, if you have a working online store, you can switch to another platform, such as choosing Shopify. Read more about it here. Since our team is Shopify experts, we combine the migration process with an audit of the site's current processes and improvements in speed, features, design, and SEO optimization.
We have helped many brands move from other e-commerce platforms to more comfortable ones. For example, in the case for the Hofner brand, we redesigned and transferred the site from CMS Joomla to CMS OpenCart. See more tasks and solutions for the project here.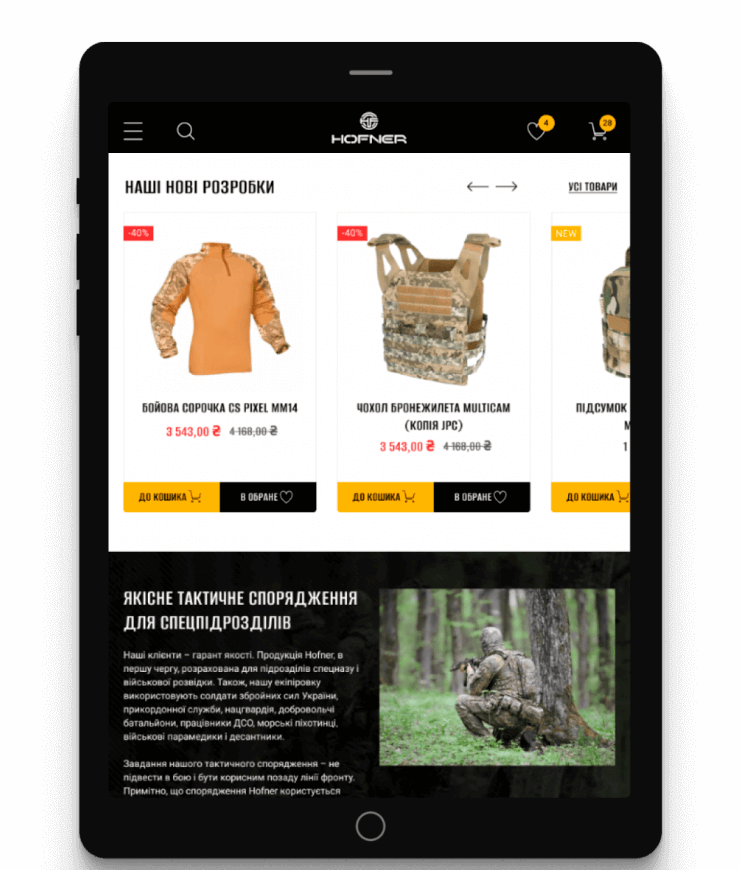 What online stores do we create?
The ones that automate processes.
We integrate systems and applications, select individual solutions so that routine, repetitive tasks disappear from your business to-do list. These are automated accounting and inventory systems that change the approach to doing business. If you're focused on development, automation is the key to expanding quickly.
Based on 12 years of experience and expertise.
Our team of developers, designers, testers, managers and SEO experts will help you create effective online stores that are both visually appealing and easy to administer.
Based on high-quality modern technologies.
For developing e-commerce sites, we choose technologies that will be easy to work with as the business grows. We have expertise in website development using WordPress, WordPress+Woocommerce, OpenCart, Shopify, as well as creating websites from scratch using frameworks. This extensive experience gives our clients the flexibility to choose the right solution for their business.
Examples of projects we have developed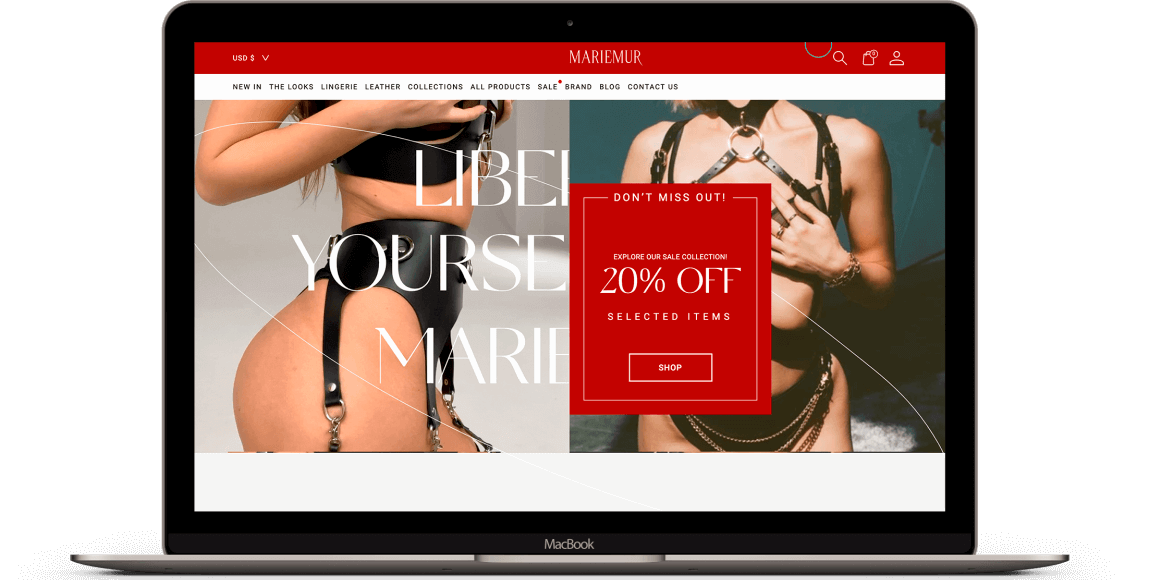 Development of an online store on Shopify, Shopify theme creation from scratch for e-commerce company and underwear brand.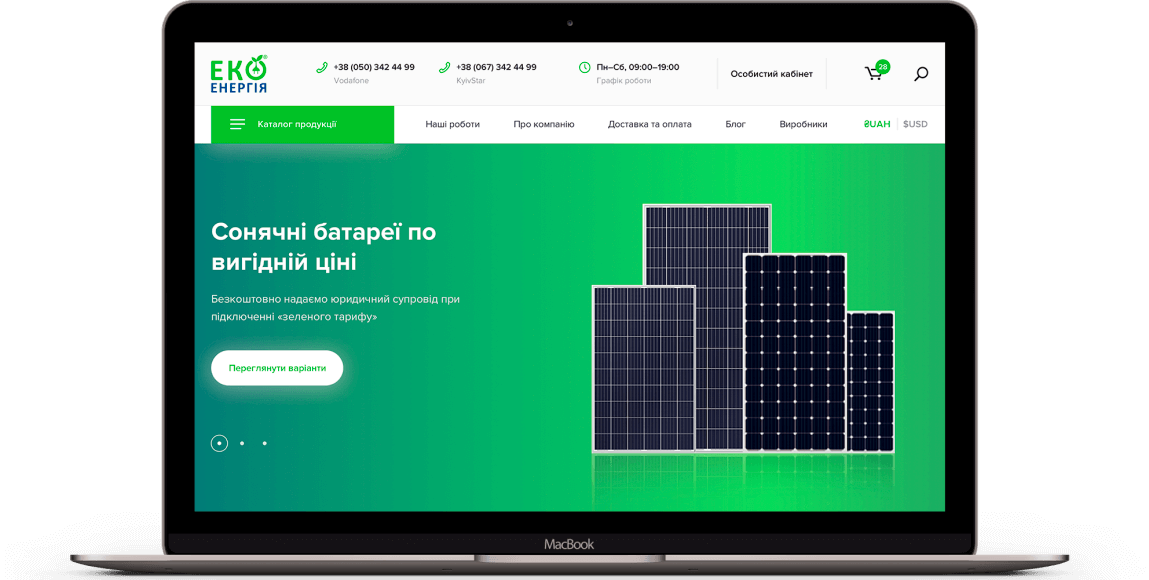 Redesign of a multifunctional online store for a company that sells and installs green energy equipment.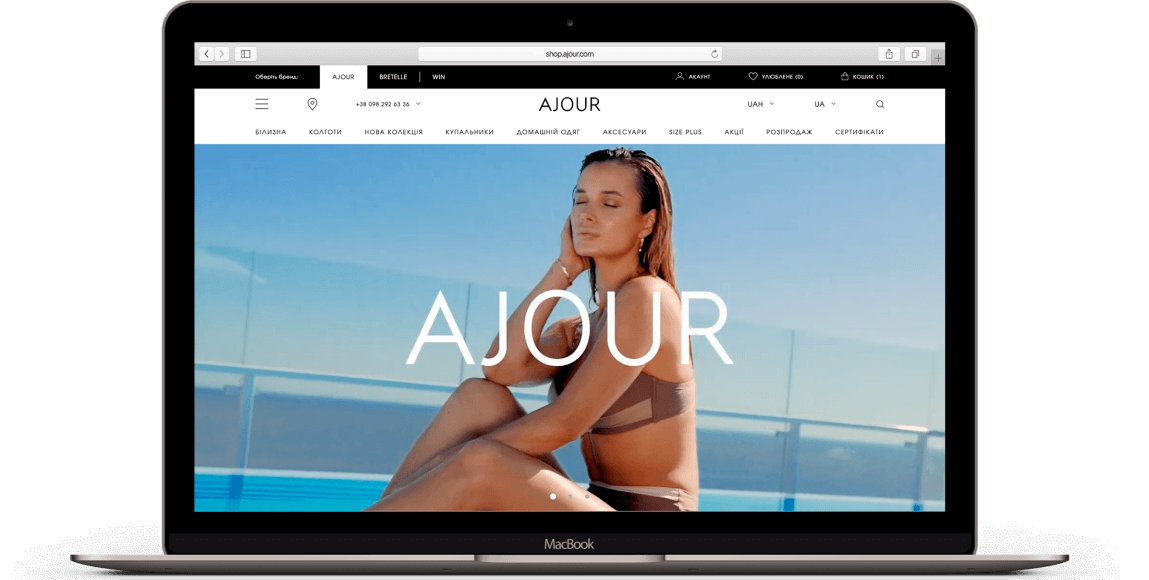 Development of one online store for three brands of lingerie, swimwear and home wear.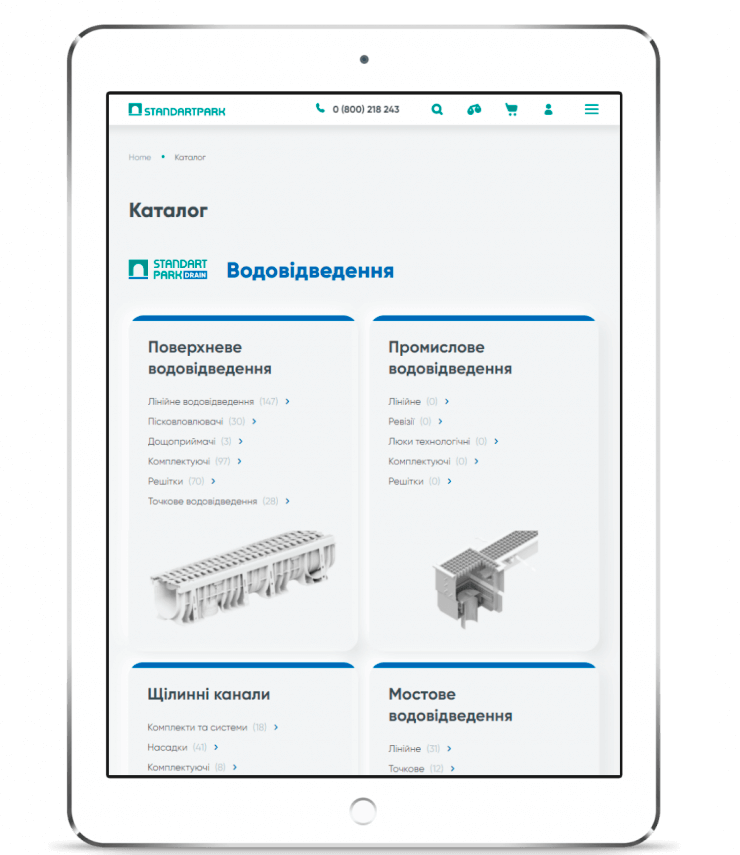 Custom development of an online store with more than 4,000 products for an international trade and engineering company.
Looking for experienced developers?
Let's start something great together. Fill out the form here.